PVDF hydrophones
PVDF hydrophones use the piezoelectric effect for the pressure/voltage conversion. The polymer Polyvinylidenfluorid (PVDF) becomes piezoelectric when it is mechanically stretched and exposed to a strong electric field. A small piece of piezoelectric PVDF foil is attached and electrically contacted to the tip of the hydrophone. This is the pressure sensitive element of the measuring instrument.
PVDF hydrophones can be used for measurements in the low pressure region up to maximum 10 bar. The use in cavitation fields may lead to a damage of the hydrophone.
Our PVDF hydrophones are calibrated with a calibration sound source in a water basin. The acoustic field of the sound source is controlled by the Fiber Optic Probe Hydrophone FOPH 2000.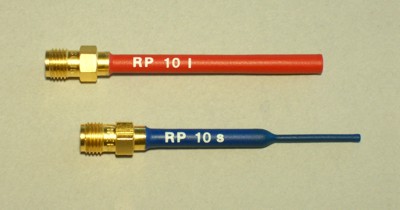 PVDF hydrophones
Two different types of PVDF hydrophones are available: