Fiber Optic Probe Hydrophone FOPH 2000

The Fiber Optic Probe Hydrophone FOPH 2000 is the ideal instrument for the absolute measurement of short time high positive and negative pressures in liquids. It is used by numerous metrological, medical and scientific laboratories worldwide for reliable soundfield characterizations.
The sensitive element for measuring pressure is the tip of an optical glass fiber. The pressure signal is detected via the changing light reflection at the glass fiber/water interface caused by the pressure/density influence on the refractive index of water.
Due to the fact that the refractive index of a liquid depends on pressure and temperature the FOPH 2000 can also be used as a temperature measuring instrument with high spatial and temporal resolution (interesting for HIFU applications).
New
: We redesigned the front section of the FOPH 2000 main device to enable an improved functionality and operability.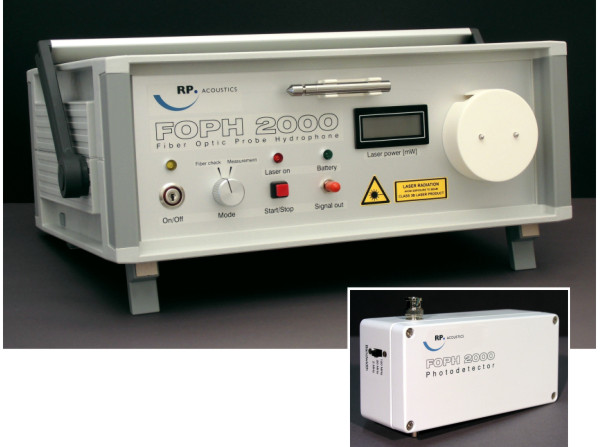 Main device and photodetector of the Fiber Optic Probe Hydrophone FOPH 2000

Properties


Applications

Numerous possible applications exist in the medical field, in general ultrasonic calibration and measurement as well as in the characterization of technical ultrasonic equipment:
The high spatial (100 µm) and temporal (3 ns) resolution of the Fiber Optic Probe Hydrophone FOPH 2000 allows a correct examination of medical equipment for extracorporal shock wave lithotripsy and ultrasonic diagnosis.



Operation principle